About Greenwich Club

Greenwich Club offers many opportunities to meet new people, make new friends, and establish new relationships with like-minded, friendly, educated members, in a casual atmosphere. Members have met traveling companions and several have met their spouses, partners and soul mates at our events.
Our events are casual and fun with plenty of opportunity for socializing. See our "Activity Calendars" page for a more complete list of our on-going and special activities:
Parties:
Private dinner parties at select members' homes
Gala dances and cocktail parties at private country and yacht clubs, in the Spring, Fall or Christmas
Super Bowl and St. Patrick's Day parties
FREE Wednesday evening Meetups with varied activities, including guest speakers, games, discussions. Complimentary food and beverages are provided at some parties.
Active Adventures:
Hiking Group every Sunday
Schooner sails and joint activities with golf and tennis groups
Cultural Events:
Wine Tasting
The Greenwich Symphony and Caramoor
Shakespeare on the Sound in June
Local and Broadway Theatre
Museum visits
Community Service/Singles Helping Others:
Midnight Run in New York City, preparing and delivering food and clothing to the homeless population
Habitat for Humanity in Bridgeport, CT
Toys for Tots
Christmas Trim-a-Tree for needy families
All Around Activities:
Casual bistro dining every Monday
Movie Group meets monthly on Sundays and Fridays
Book Group meets once a month
Special Events: Every year new events are added, such as Visit to Belmont Racetrack , Ellis Island and the Statue of Liberty, Picasso at The Metropolitan Museum , Culinary Institute of America.
Greenwich Club's Singles Helping Others Community Outreach program has planned activities with non-profit and charitable organizations to help those in need. Enthusiasm for Singles Helping Others has been contagious and we welcome volunteers, in any capacity.
Greenwich Club Committees offer an opportunity to work and play with others on whatever one enjoys: (Social gatherings, Publicity, Administration, Membership, Hospitality, Photography, and Technology).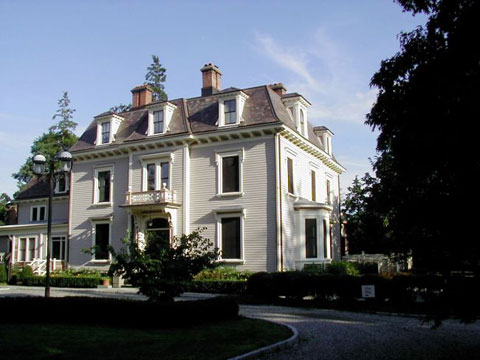 Tomes-Higgins House (used for special occasions)
Directions to our Weekly Wednesday Meetings
Christ Church Library
(entrance in the midst of the cloister walkway behind the open grass area)
254 E. Putnam Avenue
Greenwich, CT
Where we hold our weekly meetings 7:00-9:00 PM

From I-95 take exit 4 (Indian Field Rd.).
Turn left off the ramp when heading northbound (from NY), or turn right off the ramp when heading southbound (from New Haven).
Follow Indian Field Rd. to Route 1 (East Putnam Ave.).
Turn left at the traffic light and continue for about 1.5 miles (3 traffic lights) to Christ Church on your left.
The Church Library is next to Christ Church Parish House (254 East Putnam Ave., Greenwich CT 06830).
Entrance is at the left end of the cloister walkway which runs in front of The Parish House.
Greenwich Club (For Singles) was formerly known as Cotton Club Greenwich.
Download our membership form.
The dues for the Greenwich Club are $45 annually due on January 1 ($25 for NEW members if paid between July 1 and November 30).
With payment of the dues you will receive the club's monthly newsletter, special events email announcements and updates, and discounted rates for most of our events.